ArtistWorks Live: Talking Bass with Nathan East
Did you know Nathan East got his start playing cello before he moved on to bass? That he likes to warm up his fingers by playing the theme from "Popeye"? You would if you tuned in to our latest edition of ArtistWorks Live!
We do these once a month with one of our amazing teachers, and this month we were Talking Bass with Nathan East. As per usual, 12 month members of all our schools are notified in advance of any upcoming ArtistWorks Live episodes so they can tune in live to ask questions on whatever they want. It's always different, but always a good time!
These are hosted by our own Director of Operations John Graves and the conversation is steered by our fine members in the viewing audience. Besides some great playing from his home studio, we got into some fun topics that include:
How big a roll music played growing up in the East household

Playing music with his son Noah: from the basement to Japan

How he manages teaching amidst an already busy schedule

Working with Yamaha on his signature bass series

Singing while playing and why he loves it

Ideas for practicing
Plus a lot of great stories about his experience working with huge superstars like Eric Clapton, The Beatles, Michael Jackson and more. You see that acoustic bass hanging on the wall? That's the one he played on the famous Eric Clapton Unplugged show, he talks about it.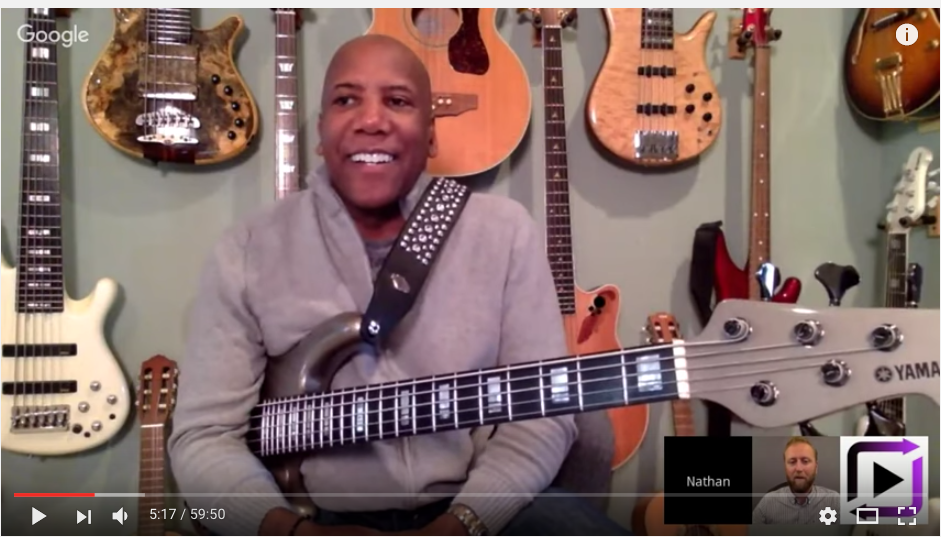 Learn bass online with Nathan East at ArtistWorks! Click here for free sample lessons.