ArtistWorks Students Release Album
Learning at ArtistWorks can take your playing to a new level, and 'The Lonesome Days' are a great example. In between lessons and Video Exchanges, mandolin and banjo students Jonny Miller and Todd Lilienthal (pictured above), have been tearing up the bluegrass scene with their band The Lonesome Days, notably placing 2nd in the 2015 Telluride Bluegrass Festival band competition and 1st place at the 2016 UllrGrass festival.
We caught up with their man on mandolin, Jonny Miller, to learn more about the situation. As it turns they've just released their first studio album, which they funded on Kickstarter. You can check it out here.
Jonny started playing mandolin six years ago, which is either a long or short time depending on how you look at it. He'd been into music most his life, singing and playing guitar a bit but it wasn't until the annual RockyGrass Bluegrass Festival in 2011 that he tried playing a mandolin. He was curious to see how it compared to playing guitar, and it wasn't long until he was hooked on it:
"Once I had a mandolin I couldn't get enough! I would work for 8 hours, then come home and play on my porch for another 8 hours. My friends were a bit confused-- they wouldn't see me out much unless we were at a bluegrass show. That was really the only thing that could get me out of the house at that point. I was on that porch practicing for about two years before I joined my first band. Just after that I found ArtistWorks.
I got to a point where I really wanted to get serious about my music career in 2015. I quit my job, switched to part time, and looked to start a band. The goal was to enter the 2015 Telluride Bluegrass band competition. I had done a charity show with Todd and some other friends and called them up. We had some early lineup changes, but the moment the current group got together for the first time, we knew we had something special. Todd and I had been friends for years. Todd is a very talented Scruggs player, a good guy, and a great friend.
I knew Sam as a great mandolin player who was playing with a few different groups at the time. I have always admired Sam's musicality, and still do to this day. I feel so fortunate to play with him. Bradley was more of a jazz player, but was getting into bluegrass around that time. I met him for the first time at a rehearsal. He fit in right away, personally and musically. We consider ourselves very fortunate to not only be really musically compatible but to also be great friends."
Who are your biggest influences?
"In life, my parents. They have been so supportive of me my entire life--no matter what I was interested in. When I started playing gigs as an adult, they would show up to every single show. They have moved out of state, but are still very involved in this project.
Musically, I have a very eclectic background. As a kid I would sing with my Mom in the car and at church. We would listen to a lot of music: Elton John, James Taylor, Jim Croce, Creedence, Led Zeppelin, the Beatles, and so on. There was always a heavy dose of contemporary christian music as well, which started my love for Gospel.
My Grandpa listened to Elvis (mostly the gospel stuff) and I always think of him when I hear it. He would also play the Statler Brothers, The Oakridge Boys, Johnny Cash, and other good old country."
"I didn't find bluegrass until I was and adult. I had a guitar teacher lend me a Tony Rice CD and I was hooked! I started searching for any and all things bluegrass. I had just gone through a divorce, and there were a lot of songs about heartbreak. I related to the songs in a very personal way.
From Bill Monroe, Flatt and Scruggs, and The Stanley Brothers, to the Punch Brothers, Infamous Stringdusters, and Leftover Salmon. I wanted to hear and see all of it. I still do.
The Steeldrivers are another band that I really love. I saw them with Chris Stapleton singing at Telluride in 2009. It was my first time at a bluegrass fest and my first time hearing them. I had never heard such a powerful vocalist in bluegrass before. Their first two albums have become two of my favorite bluegrass albums. They are dark, gritty, powerful, and beautiful all at the same time.
Chris was singing bluegrass like it was the blues or rock and roll, and I just love that. As a vocalist I have always loved soulful singing, and have tried to be more soulful myself. I'm no Chris Stapleton, but I try to bring some of that soul, passion, and grit to my vocal style."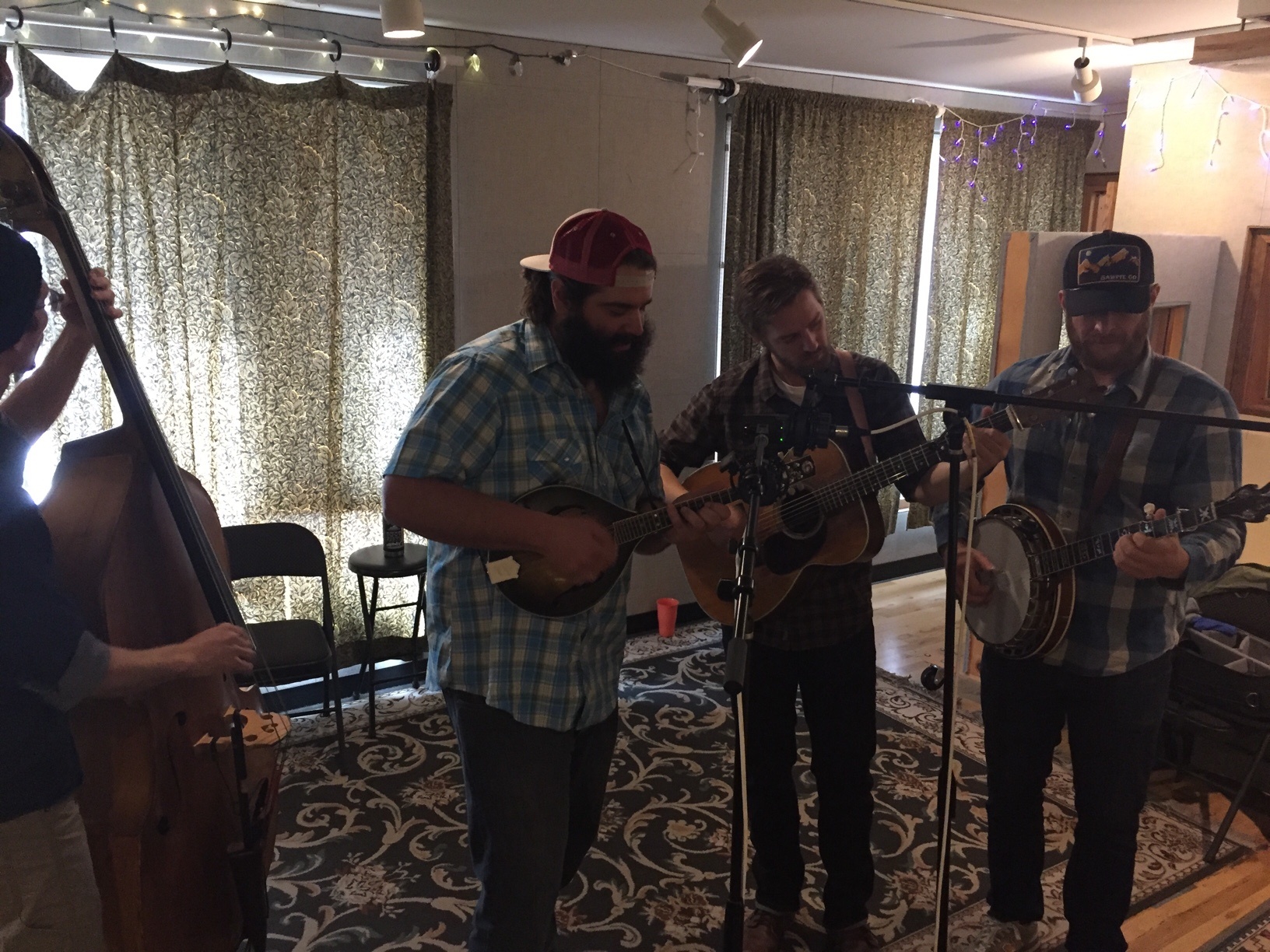 What's the songwriting process like?
"Sam Parks and I are the primary songwriters for the band. Up to this point, we've written individually. Sam is very much a craftsman: he doesn't bring the songs to the band unless he feels the song is ready. After it has been written, we work as a band to solidify the four piece arrangement. When I write, I tend to bring more of a rough draft. My songs tend to be pretty raw, and the guys are great at helping me finish them up.
Having multiple songwriters with different approaches really shapes our band's sound. My songs are usually pretty sad, our friends and fans are very aware of that. But sad songs have always cheered me up! It's a big reason why I love bluegrass so much. There is something about listening to a sad song that makes my own problems feel distant.
When I write them it is a very cathartic process. It helps me get through whatever it is I'm dealing with. Sam's songs tend to be more uplifting and have that great modern feel to them. They also really drive the tempo. Having two different approaches that complement each other is what makes The Lonesome Days unique.
We are very democratic in our arrangement process. Each member brings different ideas to the table and when we finally find the right arrangement, everyone knows it. It is a very cool thing! I feel like our band is constantly growing and evolving in this process. But when it comes to our "sound", we all have a very similar idea of what that is."
How often do you meet for practice?
"We get together as often as we can, but we don't maintain a set schedule when we get busy. We make sure to get together in the week preceding a show and sometimes the day of as well. When we are installing new songs, we may spend an entire rehearsal one one song. Those are always my favorite.
It's actually a lot like making a video for submission on ArtistWorks. The song starts out being slightly rough, but after a number of passes we all get to leave feeling like we really accomplished something that's ready to put in front of an audience. Songwriting is a major passion for me. Whether it's Sam's song or mine, I love the process and time it takes to make the songs into something that is ready to perform and record."
Do you play many live shows, if so how do you prepare for them?
"We play 50+ shows a year, mostly in Colorado. Rehearsals are important to prepare for shows, but communication is also key. Communication with venues, booking agents, and band members takes a lot of time, but is critical to a successful show."

What's the plan after the album is out?
"We are funding our album through Kickstarter, and it's been very successful up to this point. Once we get the album out, we will be in great shape as a band. Having an album that represents our sound is so important. We will also have new branding, shirts, hats and vinyl. We are also hoping to get out of Colorado one or two times next year. Right now, we are very focused on finishing the album. It's a lot of work, but so worth it!
We have links to media at our website www.lonesomedays.com, and you can preorder an album here: www.getlonesome.com."
Do you play any other instruments?
"I will always consider myself a vocalist first. It's how I got into music in the beginning, and it's what I feel I'm best at. I play some rhythm guitar when I write. It helps get a feel for what a chord will sound like with a melody. I just recently started performing solo with guitar. Performing solo with an instrument I'm not as comfortable with, has been challenging, to say the least. I get nervous every time I perform. It's a great way to push myself musically, and test out new songs that may not fit the band."
How did you find out about ArtistWorks?
"I found out about ArtistWorks at RockyGrass. I've gone to that festival for 8 years in a row. I believe ArtistWorks has been there for the last 5 years [editor's note: you are correct sir]. I chatted with someone in the tent and saw some cool performances that inspired me to give it a try.
It's been a great way to become a better player, no matter what level you are. You have access to some of the best musicians in the world for a very affordable price. I always encourage people to send in their videos. It's nerve racking at first, but it's the practice you put into the videos that actually makes you better."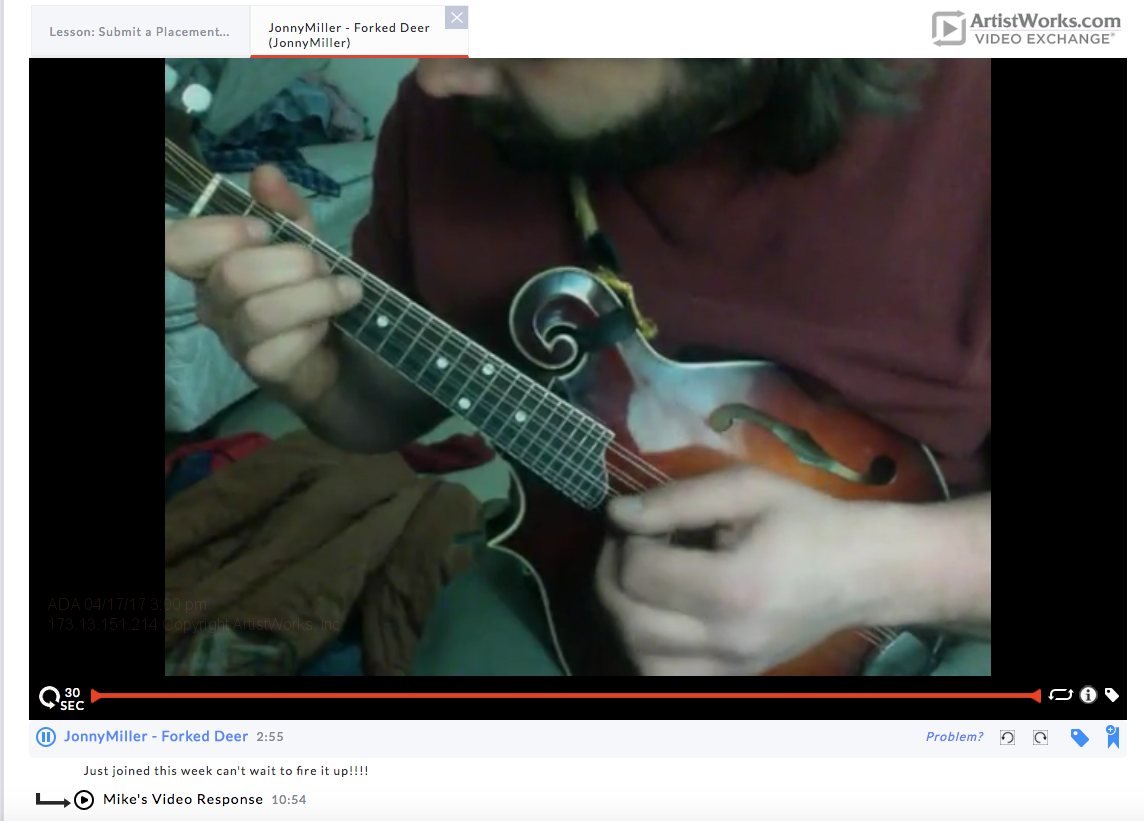 Has it influenced your playing?
"My interactions with Mike Marshall through ArtistWorks have been very influential in my growth as a Bluegrass player. I continue to take lessons and learn from the talented people around me. Having access to a teacher like Mike has been very valuable and his encouragement has been a huge part of my growth as a player.
When I send Mike a video exchange, I often spend hours practicing to get it ready; I really want it to be the best I can play. The motivation there is huge. His responses are engaging and very personal. Another huge motivator! He takes time to break down my playing and offers great advice that stretches my comfort zone. The whole format has been a huge part of my development."
What do you get most out of the experience?
"Inspiration. Mike is so creative and he has technical skill to play whatever he is feeling. It's so inspiring to watch the different musical ideas flow when he responds to an exchange. It's the type of freedom every musician wants, and most need a couple lifetimes to get there."
Are there any lessons or something your teacher has said that have made a big impression on you?
"In general, just staying positive as a student, and putting in the works it takes to get better. Mike is so supportive of players of all levels, I've seen it in every exchange I've watched and It has been so helpful. It's really easy to get down on yourself when you are learning an instrument as an adult. You see other people who have played their whole lives playing things you think you'll never learn.
It's really easy to compare yourself to others and feel like you aren't good enough. Once I sent an message to Mike when I was feeling especially down. He responded with the most positive and encouraging message! It really made my day. After working with him more and more, I knew he wasn't judging me for my lack of experience. He wants it to be fun!
To have such a master musician accept you as a player and tell you that you are doing a great job really emboldened me to keep going. It has helped me to stay positive mentally and accept where I am as a player at all times."
Anything you want to say to the people reading this?
"Keep playing music! Keep practicing. Pick with your friends. Have fun. Don't beat yourself up.
Don't put any limitations on yourself. You can take music as far as you want if you put in the work. When I started with ArtistWorks, I never could have imagined recording an album, let alone writing 7 songs for the album! 4 years later I found myself at eTown, with Sally Van Meter producing, playing and singing on songs that I wrote; Jeremy Garrett from the Stringdusters playing fiddle on three of the songs that I wrote; Nick Forster waltzing into the studio to hear what we were up to. It has been surreal.
But if you put in the work great things will follow. I can tell you wholeheartedly that the ArtistWorks program helped me to achieve all of these things. If I can do it, so can you!"
Check out this video of Jonny playing mandolin live with The Lonesome Days at the KGNU radio station in Boulder, CO, and support these guys on Kickstarter while you still can!
Read more interviews with ArtistWorks members below:
Groups: