February Artist Feature
Read on below to see what some of our teachers are up to in their ever-exciting careers. Also for a limited time, we're offering 4 months of learning for the price of 3! Simply use the code FOUR4THREE at checkout when you sign up for a 3 Month Membership before Tuesday, February 9 at midnight PST.
George Whitty - Jazz Piano
Keep your eyes out for the new Keyboard Magazine feature on George Whitty! And enjoy this clip of George with the Chris Minh Doky band, on tour with The Nomads from a few years back. In Whitty's own words, it features a pretty ripping piano solo.
Jason Vieaux - Classical Guitar
Hear how the Beatles played a role in Jason becoming interested in playing guitar as well discussion of his album Play. Watch the full clip on WKYC, here!
Paul Gilbert - Rock Guitar
Good news for rock guitar fans: Paul's new solo album, I Can Destroy, is already out in Japan and will soon be released worldwide. He's also planning a world tour so stay on the lookout for those dates being announced soon. In ArtistWorks news, he's been a roll lately with over 3,500 Video Exchanges now recorded - he even built a new studio exclusively to record new videos for his students!
Tony Trischka - Banjo
Tony just returned from debuting a banjo he designed himself, called The Golden Clipper, which will go into production over the next several months. He's also entrenched in a brand new album, which features a ton of exciting guest musicians, as well as planning a new tour.
Mike Block - Cello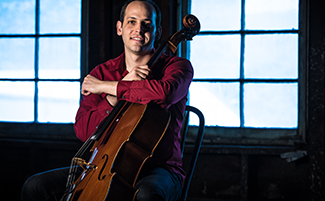 Mike Block is rejoining old friend Yo-Yo Ma and The Silk Road Ensemble for a few upcoming shows at UC Santa Barbara and Chicago's Symphony Hall. He's also been recording two new albums of original and existing folk material, some of which features AristWorks fiddle teacher Darol Anger. We will keep you posted when we know more!
Take advantage of the limited time offer of four months for the price of three before Tuesday, February 9 at midnight PST. Just use the Promo code: FOUR4THREE.
This offer applies to all schools and current students can apply the extra time to your membership so Click Here to JOIN NOW!