Master Rock Guitar Scales with these 5 Easy Tips

Learning and memorizing certain rock guitar scales is a crucial step in developing your skill set as a guitarist. With all of the various shapes, positions, patterns and modes, it can seem daunting to dive into scale mastery, so here are five simple tips to help you move forward confidently in your playing.
1. Simplify
Start with the basics. A classic scale you'll need for playing rock guitar will be the minor pentatonic scale. This is not only because itt's s a relatively simple scale, but also because it is the building block of some of the world's greatest guitar solos. Listen to Jimmy Page, David Gilmour and Jimi Hendrix, and you will be hearing the minor pentatonic scale all over the place. Try to avoid getting in over your head by attempting to learn too many scales at once.
Focus on the simple ones: minor pentatonic, blues scale, major pentatonic, and spend enough time with each one until you feel fluid and comfortable enough to move on to more complex scales.
2. Divide and Conquer
A great way to learn rock scales is to break them down into smaller pieces, memorize each piece, and then put it all back together. For example, if you are learning the A minor pentatonic scale, split it into two pieces: the notes on the bottom 3 strings (E, A, D) and the notes on the top three strings (G, B, e). Work through the notes on the bottom three strings with focused repetition until you have those notes memorized, and then do the same with the top three strings.
Once you feel comfortable with both sets, put it all together and you will have the scale memorized in no time.
3. Improvise
Once you have a specific scale memorized, practicing improvisation can be an excellent way to solidify that memory in your mind and fingers. If you are new to improvisation, keep it simple. For example, try to play some improvised patterns using only the notes on the top two strings. Slowly start to incorporate more notes from the scale while improvising, and you will progressively lock in the shape and sound of the scale.
Learning small pentatonic "solos" (as demonstrated by Paul Gilbert this this lesson at ArtistWorks here) is a great way to start thinking about the scale as an improvisational tool rather than as a fixed linear shape.
4. Sequences
Speaking of fixed linear shapes, learning sequences is a great way to break out of the habit of linearly running scales up and down. A common example of a sequence would be three notes up, one note down. If you're playing the A minor pentatonic, you would play A, C, D, C, D, E, D, E, G, E, G, A and so on. The bold letters are the notes of the scale in order so you can see how the sequence fits around the scale.
There are countless versions of sequences, so experiment with learning various patterns and try developing some of your own too. Have fun with it!
5. Use Your Voice
Using your voice while you are learning scales is an excellent way to imprint the sound and notes of the scale into your memory. Start by humming each note as you play it, so you can vocalize the intervallic relationships between notes. Additionally, try saying the name of each note as you play through the scale to ensure that you're learning the notes, not just the shape of the scale. Go even further by combining these two techniques: sing the name of each note as you play it. It may sound silly, but it will help you to memorize the sounds, shapes and notes of the scale!
Be sure to check out Paul Gilbert's excellent rock guitar lessons at ArtistWorks for more tips and ideas for developing your skills!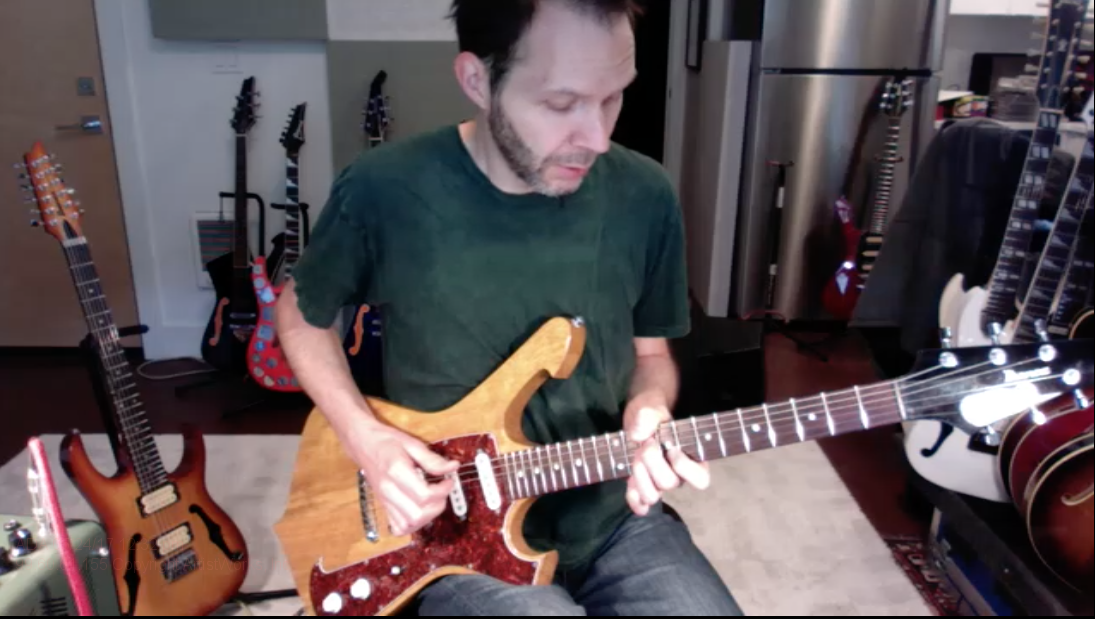 Did you know can learn rock guitar online at ArtistWorks with the one and only Paul Gilbert? Be sure to check out the free sample lessons!