A New Look is Coming Soon to ArtistWorks
Attention Jeannie Deva Vocal students! We're making improvements to the ArtistWorks interface, and things will look very different when you log in after November 1st.
Please note, all of the schools we've launched since Summer 2015 are already using this new design and loving it - so those of you in multiple schools may have already seen it. We're excited to get the rest of the schools moved over as soon as possible, it's a great interface that makes it easier for you to make the most out of the ArtistWorks experience. If you have any questions or comments about any new changes please post your thoughts in the member forum here.
What's Changing?
You'll have the same functions as before (and more), but we've arranged things a bit differently. When you log in, you'll first be brought to a page that looks like this: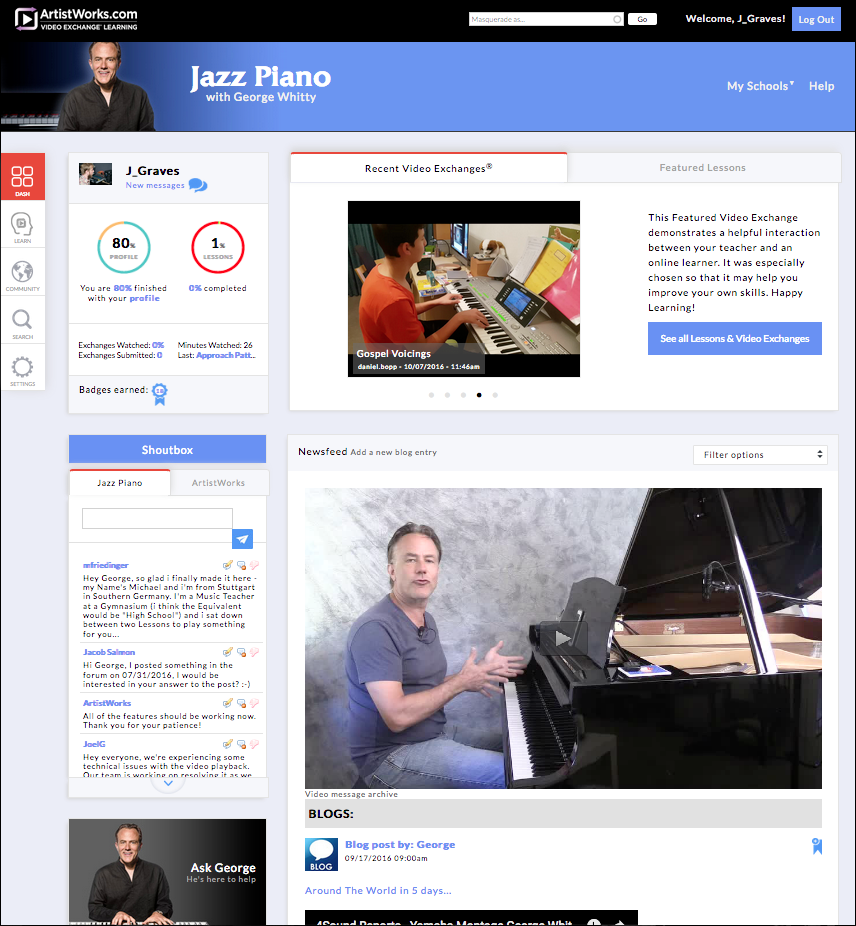 This is what we call the Dashboard. Think of this as home base for your school - it's where you'll find links to Video Exchanges, Featured Lessons, the Shoutbox, the most recent Welcome Video, the Newsfeed, and more.
This should all feel similar to your current ArtistWorks experience. One new feature here is that you can use the Filter options to customize your Newsfeed.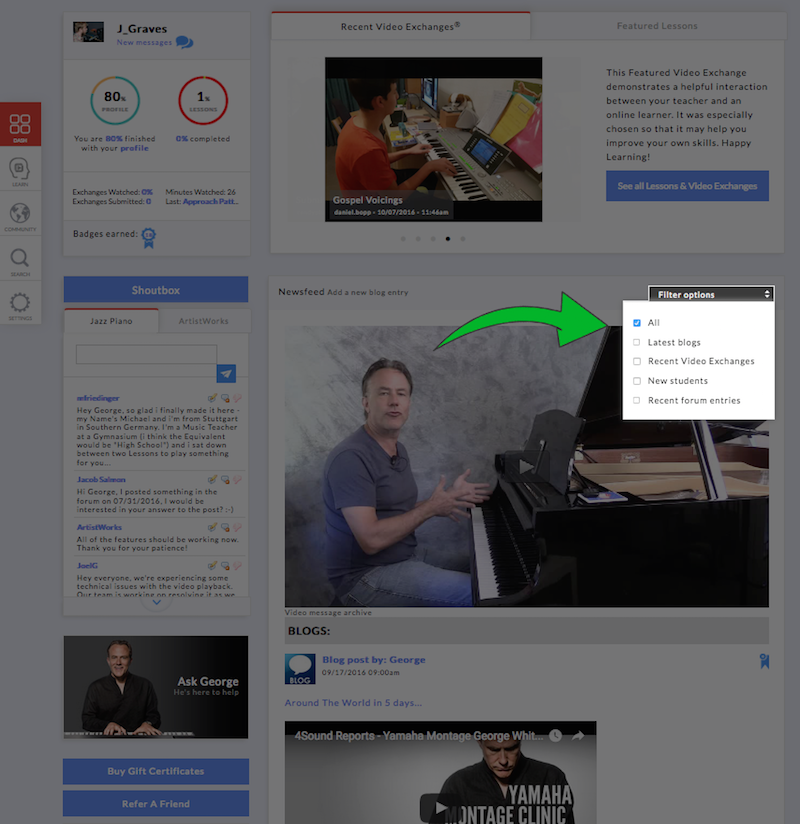 On the left side of the screen you'll see the Navigation Bar, which is your tool for navigating the entire site. Hover to expand and access these links: DASHBOARD, LEARNING CHANNEL, COMMUNITY, SEARCH, SETTINGS.
Now let's move onto the LEARNING CHANNEL. This where you can access all Lessons (including Music Theory), Study Materials, Video Exchanges, and VIP Bonus Content (for 12 Month Members).
Click on the tabs to reveal the lesson list included in each section. You'll see a green progress bar to indicate how much of each lesson you've watched. You'll also see the number of Video Exchanges associated with each lesson under the title in parentheses. You can also use the Search box to find lessons within that section for topics you're looking for.
Cick a lesson to jump right to it. From here you can view the lesson and all other learning materials for the topic. Click on Video Exchanges under the title to see all VEs associated with this lesson. Clicking on Lessons Resource under the title will bring up any Notation, Play Along Tracks, and the Metronome.
Below the video you'll find a link to see any Comments from fellow students and add your own. You'll see Recent Video Exchanges at the bottom of each lesson page. You can also click on the link to see All Video Exchanges within your school.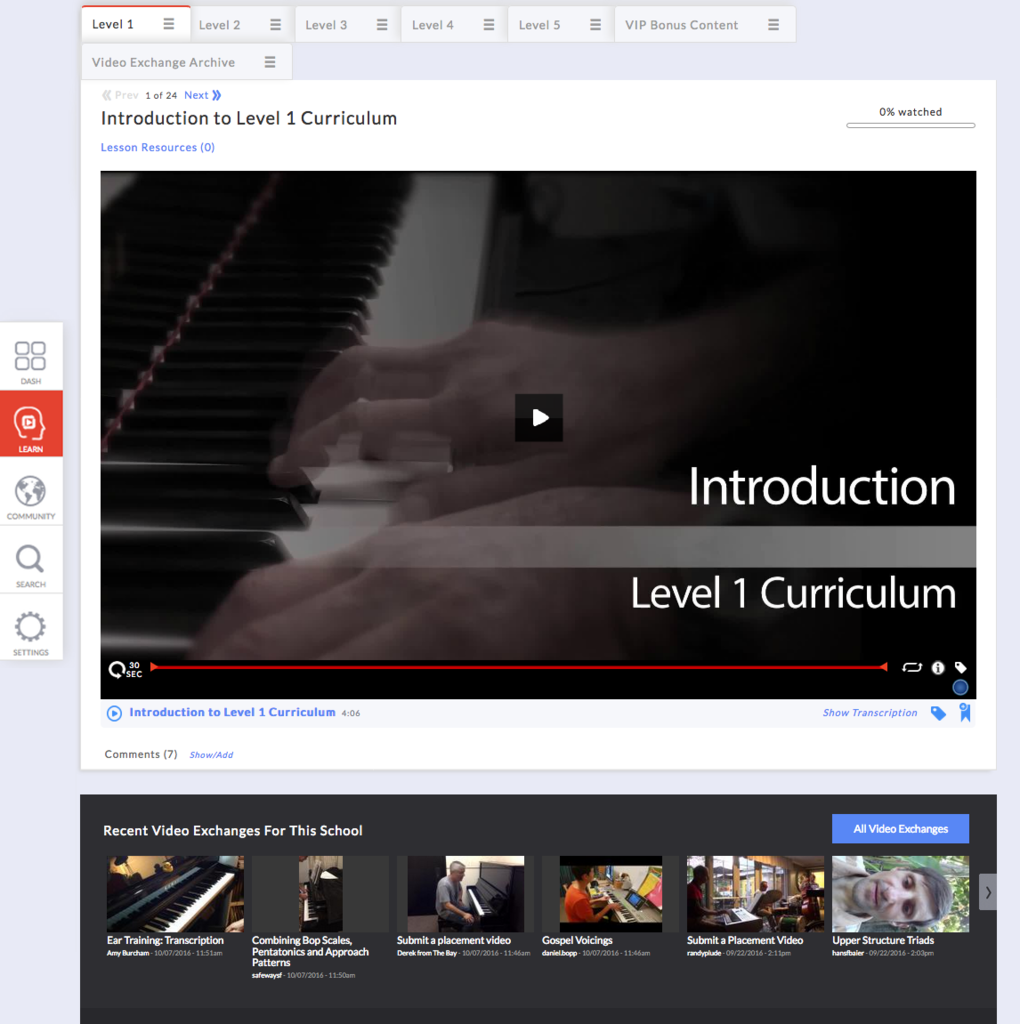 Back to the Nagivation Bar, below the LEARNING CHANNEL you'll see COMMUNITY. This is where you can read and post in the Forums, see who's online, and check out the Featured Student Video. Above the Forums you'll see an area for your own Videos, Tracks, Photos, Bookmarks, and Profile Information.
Below COMMUNITY on your Navigation Bar is the SEARCH link. Here you can enter anything you want to search for and it will bring up related results for Lessons, Forum topics, Comments, and Video Exchanges.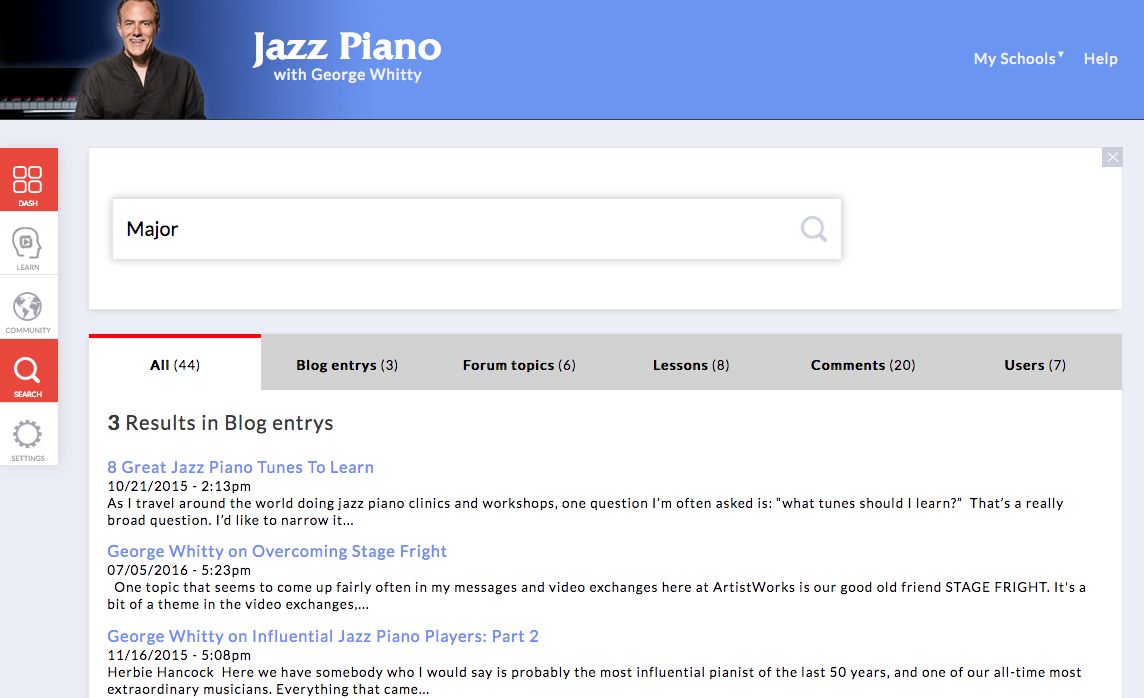 The last icon on the Navigation Bar is your SETTINGS tab. Here you can view your Current Memberships, Order History, Privacy options, and Account information. This is where you can upload a profile picture, change your password, update your Notification settings, and more. Be sure to scroll down to Save any changes you make!
That's the end of our tour folks. Plenty more new features to highlight, so look for those in future blogs. We hope you love the new design as much as we do! For a more detailed tour of the new interface, be sure to watch this video:
Enjoy your time here at ArtistWorks! Music is a powerful force... use it wisely.
Groups: