New Singing Lessons & Vocal Processor Give-Away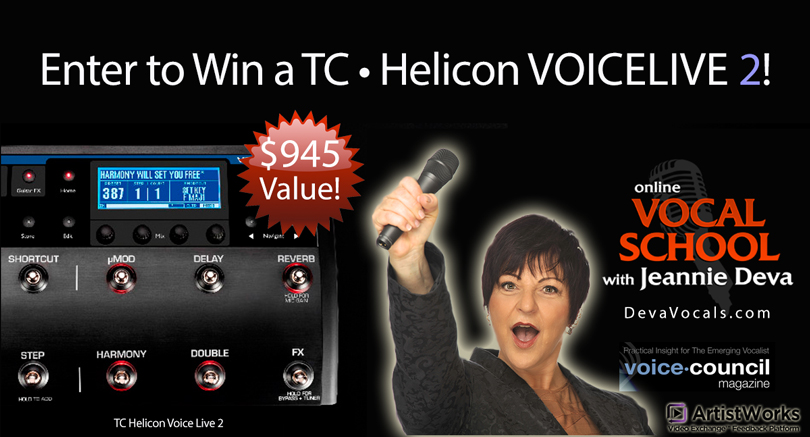 The new singing lessons from Jeannie Deva are now available! We've added 45 newly recorded vocal lessons that expand on Jeannie's proven vocal method and have also added new sections like Singing Harmony and more vocal exercises. Not a member? Be sure to fill out the form below to check out some all new sample singing lessons from the Online Vocal School with Jeannie Deva.
To celebrate the release of the new singing lessons, we have teamed up with VoiceCouncil Magazine to give away a TC•Helicon VoiceLive 2 Vocal Processor. This is a remarkable vocal tool that enables you to add harmonies, reverbs, delays, EQs, compression – everything you need to perfect a stunning vocal performance. It retails at $945, so be sure to enter here for your chance to win! Hurry though, this contest ends April 9th.
New singing lessons:
Harmony & Group Singing
Singing Harmony 101

Vocal Exercise: Tuning Your Ear to Harmony

What is Vocal Blend?

Vocal Exercise: Singing Harmony & Blend

Getting Started with Harmony in a Song

Singing Harmony: Finding Your Note, Holing Your Own

Singing Harmony: Pronunciation & Rhythm

Singing Harmony: Matching Dynamics

Singing Harmony: Coordinating Breathing

Introduction to 2 Part Harmony

Singing Parallel Harmony

Singing Oblique Harmony

Singing Counter Harmony
New Section: Quick Fix Vocal Exercises
Introduction to Quick Fix Vocal Exercises

Vocal Exercise 1: Reducing Vocal Strain

Vocal Exercise 2: Improving Vocal Range & Flexibility - Lip Trills

Vocal Exercise 3: Developing Vocal Range & Resonance - Nose Buzz

Vocal

E

xercise 4: Enhancing Vocal Range & Tone - Oow

Vocal

Exercise 5: Connecting Vocal Range & Tone - Hmm

Quick Fix Vocal Exercises - Submit a Song
Miscellaneous New Vocal Lessons
Using Songs as Warm Ups

Listening vs. Hearing - Improving Vocal Tone

Improving Breath Management

Vocal Exercise: The Singing Breath

Songs as Warm-Ups & Vocal Exercises

Lip Trills: Limbering Your Voice a Song

Vocal Resonance & Ease: Applying Nose Buzz to a Song

Song Phrasing & Timing

Song Phrasing & Dynamics

Vocal Exercise 3: Crescendo & Decrescendo

Singing the Blues

Got Stage Fright

Practice Routine 1-10 (10 separate routines with PDF instructions)